CleanMax Received MNRE Recognizes CleanMax as Leading Rooftop Solar Developer and EPC Provider | CleanMax & Rooftop Solar EPC Provider
CleanMax July 9, 2016 | Saturday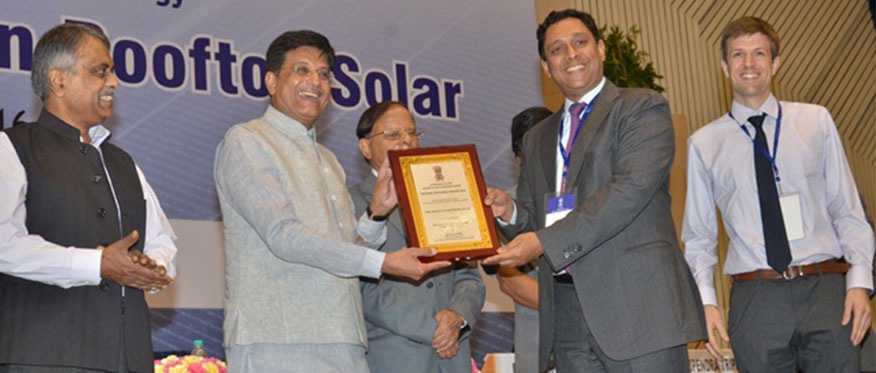 The award was received by Mr. Kuldeep Jain – Managing Director, CleanMax, during the National Workshop on Roof Top Solar Power on 7th June 2016 at Vigyan Bhawan in New Delhi. The award was a recognition of CleanMax leading position in the market, in which it has a 28% market share and counts many of the country's leading corporates as its customers. Hon'ble Minister of State for Power, Coal and New & Renewable Energy Mr. Piyush Goel was the chief guest for the evening and presented the award to Mr. Kuldeep Jain.
Best EPC Player in Rooftop Solar in India
During the workshop, CleanMax was also given a National Excellence Award in the Rooftop EPC category.
Mr. Kuldeep Jain was the only invited speaker from the private industry. Mr. Jain shared his perspective and recommendations on rooftop solar policy to the numerous secretaries and other Ministry representatives, as well as regulators, Distribution Companies, State Governments, PSUs, banks and development agencies.
Upendra Tripathy, Secretary, Ministry of New and Renewable Energy stated during the workshop that the Ministry will soon be coming out with a policy for resolving issue of storage and thereby providing stability to the grid. He informed that storage linked bidding of 200MW solar power will be organized in Andhra Pradesh & Madhya Pradesh very soon. Government of India has taken an ambitious target of 40,000 MW of Roof Top Solar (RTS) power by 2022. To achieve this target, the Central/State/UT Governments and Central/State Electricity Regulatory Commissions have undertaken several initiatives and promotional measures and have been asked to present their targets to the Government.