The Benefits of ISO Certification for Rooftop Solar Developers
Rakesh Jhinjha 9 June, 2020 | Tuesday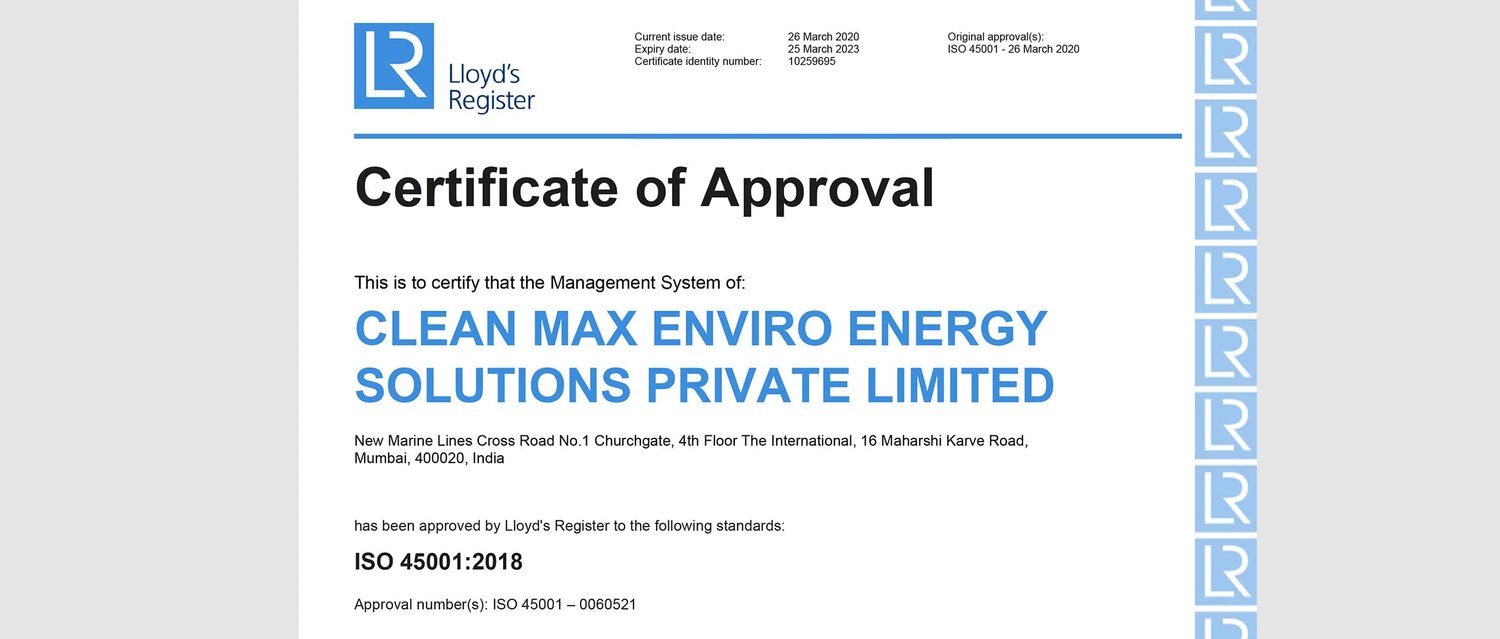 Increased global trade brings new health and safety challenges for world, which drove the need for an international occupational health and safety (OH&S) management system standard at CleanMax. It is estimated that 2.3 million people are killed every year by work accidents and disease, and there are around 317 million non-fatal work accidents annually worldwide. As per the International Labour Organization (ILO), approximately 4 percent of global GDP is lost due to work accidents and diseases. Clearly, poor risk management is not an acceptable or sustainable model; whereas managing OH&S risk not only prevents injury, illness and death – it also helps to support business success and sustain the economy. To enable global benchmarking and to raise the bar for health and safety in the workplace, the International organization for standardization (ISO) came up with an International Standard ISO 45001 for Occupational Health Safety Management system, published in March 2018.
We at CleanMax took this as an opportunity to showcase our commitment towards Occupational Health and Safety, and started our journey for ISO 45001 standard implementation & certification in the month of November 2019 with March 2020 as a target for certification.
As the timeframe decided for the implementation and certification of ISO 45001 was short, with no prior OHS Management System certification experience for the organization, the very first thing done was preparation of detailed roadmap as per the decided timeframe.
The road map included process and plans for Learning and Awareness through ISO 45001 training sessions, Gap Analysis by certified Internal OHS Auditors, Planning for Implementation, System design and documentation, Internal Audit Plan and Schedules, Progress review mechanism development and implementation.
After the completion of the above plan and process successfully, CleanMax proceeded for ISO 45001 Certification audits in the months January and February 2020 and finally received ISO 45001 Certification on 26th March 2020.
The whole certification process was a learning curve for the entire CleanMax team involved. It presented opportunities for everyone to play their parts in organisational OHS performance enhancement along with awareness and training about OHS management system requirements. Several new and improved systems were implemented within organization such as change management, contractor/vendor management, etc. as a part of ISO 45001 which will benefit the organization in the long run.
ISO 45001 management system implementation and certification for CleanMax is expected to:
Improve employee and contractor safety and will keep employee/worker morale high
Boost stakeholder confidence about availability of benchmark OHS management system with CleanMax
Increase productivity by reducing the number of stop work orders
Result in low direct and indirect costs due to reduction in accidents
Foster more management involvement at each level with accountability
Shift our OHS system from reactive to proactive