Wind Solar Hybrid Farms, The Means To a Sustainable Future
Saumy Prateek 21 Sep, 2022 | Wednesday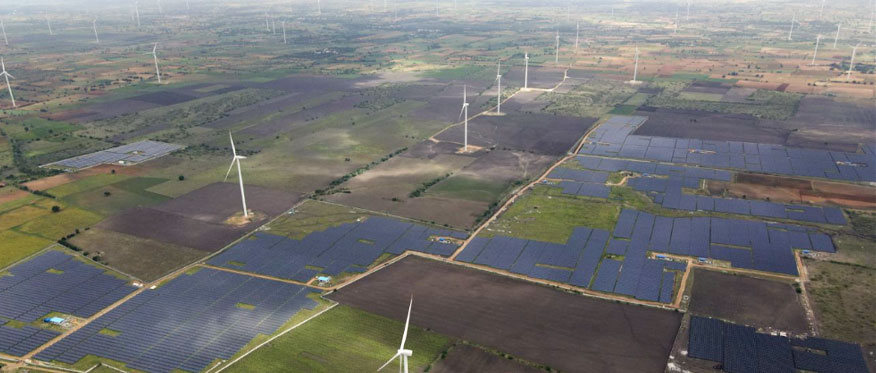 Recently, PM Narendra Modi pledged to increase India's renewable power generation capacity to 500 GW and meet 50% of its energy requirements from renewables by the end of this decade. In such a scenario, wind solar hybrid farms become crucial to India's clean energy transition as they ensure green energy/renewable energy generation during the day as well as the night.
Wind Solar Hybrid farms enable us to harness the complementary nature of solar power and wind power. A Wind Solar hybrid farm generates power in a continuous pattern, with much less variability than a standalone solar plant (generates only during daylight hours) or standalone wind plant (generates mainly during evening/night).
Standalone solar energy or wind energy can supply 25 – 30% of the plant load factor (PLF), whereas the wind solar hybrid can supply around 60% of PLF. A major drawback of standalone wind or solar farms is that power is produced only during certain intervals. The solar farms work only when the sun shines maximum between 11 am – 3 pm, and the wind farms work when there are strong winds, usually during the late evening or early morning.
A wind solar hybrid farm can reduce this variation and generate power nearly round the clock. The graph below shows India's Monthly Wind, Solar and Hybrid Generation Profile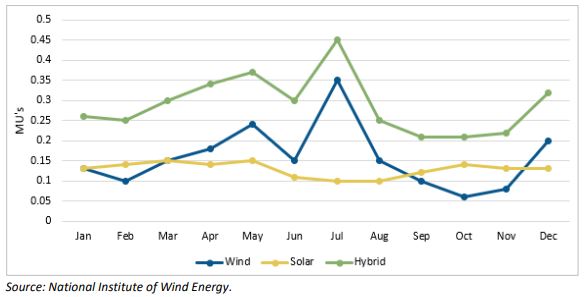 Some of the energy derived from the excess renewable generation hours can be stored and released back into the grid during the peak demand hours. The combined energy generated by utilizing wind and solar can then be wheeled to the companies. This way, the wind solar hybrid system can produce clean energy in response to the varying levels of demand throughout the day. Given the inherent complementary nature of wind and solar resources, it has been observed that the PLF of wind solar hybrid farms can be increased to about 50-60% from that of 20-35% PLF for standalone solar or wind farms.
Key advantages of the hybrid projects are:
Lower generation variability due to hybridization
Better utilization of transmission infrastructure and maintaining grid stability
Better utilization of land resources
Reduced possibility of undesirable power peaks
Complementary generation profiles
No Regulatory Risks
More savings on your monthly electricity bills
100% optimum non-intermitted power supply matching your baseload 24x7
India is an ideal market for wind solar hybrid power projects. By 2025, India's wind solar hybrid project capacity is expected to grow to about 9,500 MW.
Wind solar hybrid farm can provide efficient and flexible power. Instead of charging per unit, transmission charges will be based on the entire capacity. This reduces the cost of transmission. Wind solar hybrid farms are designed to act as a single point of supply of clean megawatt-hours, with average capacity factors far higher than standalone solar or wind farms.
Many states such as Maharashtra, Tamil Nadu, Gujarat, Karnataka, and Andhra Pradesh have good capacities for both wind energy and solar energy power plants/farms. The Ministry of New and Renewable Energy (MNRE) in 2018 provided a framework to promote grid-connected hybrid energy and later in 2020 shared a detailed proposal for the development of wind solar hybrid power projects/farms. This has made it easier to develop wind solar hybrid farms in India.
Increasingly, leading Indian corporates are showing active interest in increasing their use of clean energy and if round– the–clock renewable energy solutions are available at affordable prices it will make the transition, smoother and faster. Wind solar hybrid farms/projects will ensure that green, clean energy is always available to power operations sustainably.
CleanMax is developing a 400 MW wind solar hybrid project/farm in Bhabra, Gujarat, which will result in carbon abatement of 8.75 lakh tonne CO2 equivalent per annum. This wind solar hybrid project can help corporates & industries transition to a greener, cleaner energy source at costs over 20% lower than the current electricity costs incurred by them.