How to go solar in 4 easy steps?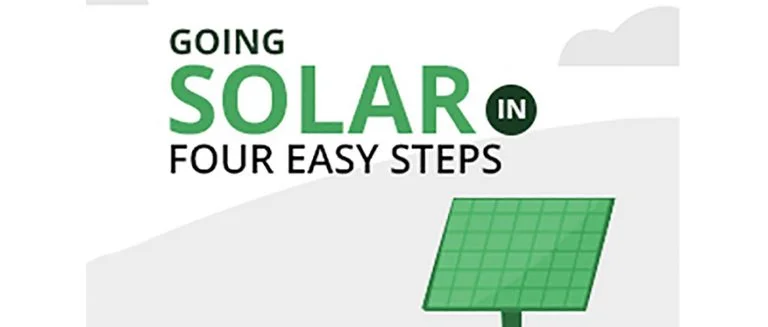 Installing solar panels is one of the best ways to beat the cost of electricity that has been steadily on the rise since the last decade. In this article, we'll explain how you can go solar as well as what the developer's scope of work is once you sign a Power Purchase Agreement. here's a quick walk through to the entire process of 'How you can go solar in 4 easy steps'.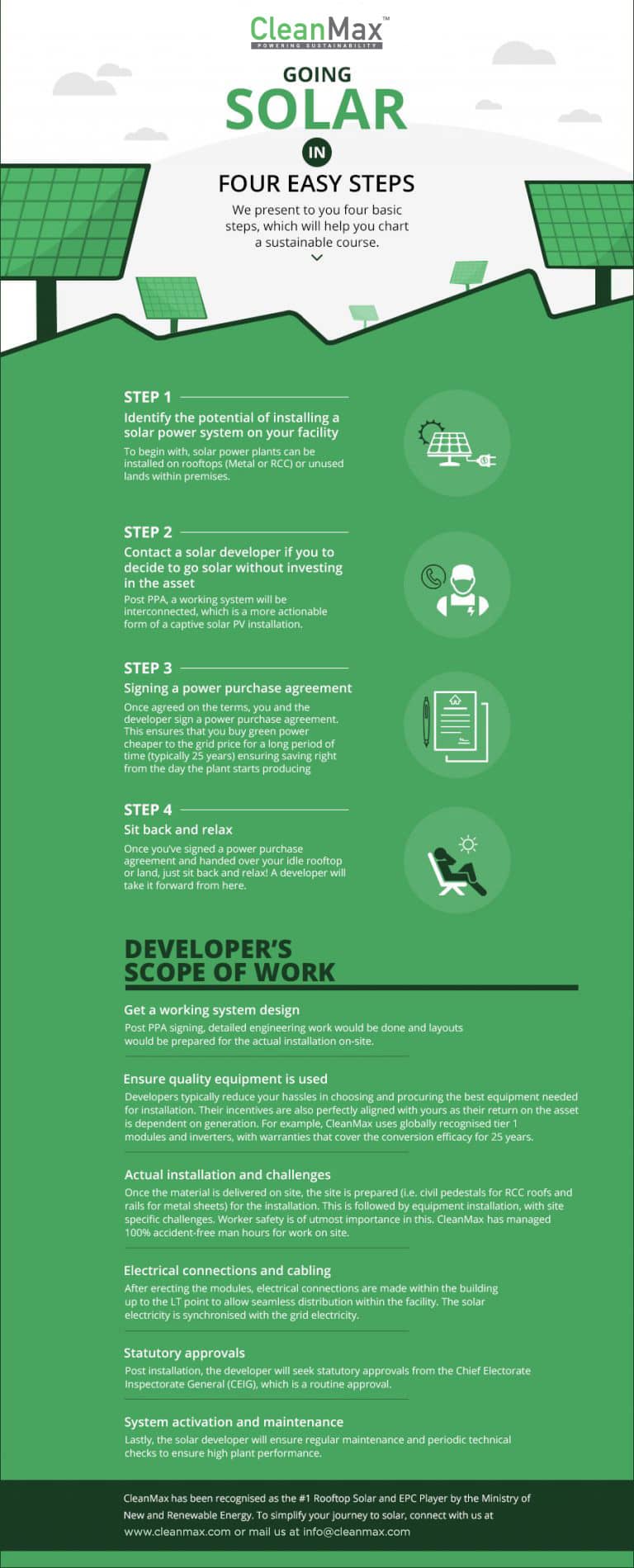 Would you like to share this infographic on your site? Copy the code below:
Please include attribution to cleanmax.com with this graphic.
1. Steps to Go Solar
Step 1: Identify the potential of installing a solar power system on your facility
Solar power plants can be installed on rooftops (Metal or RCC) as well as unused lands within premises.

Step 2: Contact a solar developer if you do decide to go solar without investing in the asset
Developers could be selected based on technical and financial competency, projects executed, national and regional presence and many more. A capable solar developer will work with you to figure out the capacity of the solar power plant based on the electrical load and area available.

Step 3: Signing a Power Purchase Agreement (PPA)
Once the terms are agreed upon, you and the developer sign a Power Purchase Agreement. This ensures that you buy green power cheaper than the grid price for a long period (typically 25 years) ensuring saving right from the day the plant starts producing electricity.

Step 4: Sit back and relax
Once you've signed a PPA and handed over your idle land or rooftop for solar installation, just sit back and relax! A developer will take it forward from here.
2. Developer's scope of work
Get a working system design
Post PPA signing, detailed engineering is done, and layouts are prepared for the actual installation on-site.

Ensure quality equipment is used
Be it for land or for rooftop solar installation developers typically reduce your hassles in choosing and procuring the best equipment needed for installation. Their incentives are also perfectly aligned with yours as their return on the asset is dependent on generation. For example, at CleanMax we use globally recognized tier one modules and inverters, with warranties that cover the conversion efficiency for 25 years.

Actual installation and challenges
Once the material is delivered on-site, the site is prepared (i.e. civil pedestals for RCC roofs and rails for metal sheets) for the installation. This is followed by equipment installation, with site-specific challenges. Worker safety is of utmost importance in this. CleanMax has managed 100% accident-free man-hours for work on the site.

Electrical connections and cabling
After erecting the modules, electrical connections are made within the building up to the LT point to allow seamless distribution within the facility. The solar electricity is synchronized with the grid electricity.

Statutory approvals
Post installation, the developer will seek statutory approvals from the Chief Electorate Inspectorate General (CEIG), which is a routine approval.

System activation and maintenance
Lastly, the solar developer will ensure regular maintenance and periodic technical checks to ensure high plant performance.
Conclusion
To sum it up, going solar is a hassle-free experience once you select a right solar developer. Thus, as a recognized rooftop solar and EPC player (by the Ministry of New & Renewable Energy), CleanMax – the #1 rooftop solar developer, can help you in your endeavour of going solar. To know more and to simplify your journey to go solar, contact us or mail your query at [email protected].